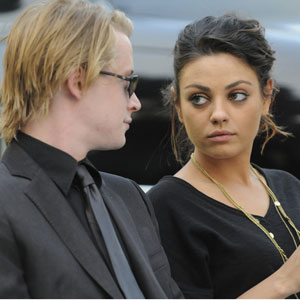 After eight years together, Mila Kunis, 27, and Macaulay Culkin, 30, have broken up.
Kunis herself has confirmed the split. Kunis and Culkin reportedly broke up months ago but have kept the news quiet. During their eight year relationship the couple was never keen on tying the knot. Back in 2009 Mila Kunis said marriage is not something that is important to her.
"Not to say that I don't believe in it, but it's just not something that's important to me. But I will have children. I'm too selfish to have them now, but when I do, I don't feel like I need to be married. I need to have a person in my life who will care for me and my children. Nothing else."
According to her publicist, Mila Kunis and Macaulay Culkin's break up was "amicable and they are still good friends. But that's a cookie cutter response for all publicists regarding all breakups…just sayin'.